Okay. I know it's been a while, but I'll try to do better. While I've been off, slacking on the blogging thing, I've definitely been reading (and listening to some great books). Here are a few that I'm head over heels for.
The Pirate of Fathoms Deep by Megan Derr
High Commander Lesto Arseni is the most feared man in the Harken Empire. None but the High King dares risk his wrath—and a pirate who once punched him in the middle of the imperial pavilion. A pirate who later snuck away with Lesto to an empty room, touched him in ways far more memorable. And then immediately bolted like a man who'd gotten what he wanted.
Shemal just wants to live a normal life, leave his pirating days behind him and prove that he's respectable now. The last thing he needs is the two idiots who show up wanting his help with the noble they've kidnapped—the very man Shemal had been hoping to prove himself to, the man he hasn't forgotten since Shemal punched him a year and a half ago.
Note: I am 200% in love with Lesto and Shemal, not to mention this entire series and the whole Tales of the High Court world. Here's a little insider info. There's more to come and it's freaking amazing!
Leveling the Field by Megan Erickson
Reclusive magazine exec Ethan Talley is furious when his business partner hires a photographer—a gorgeous photographer who insists on speaking her mind, damn it—to take pictures for an upcoming article. No matter how badly he wants the woman…under him, over him, against the nearest wall…he has reasons for not wanting to be on camera anymore, and his scars are only one of them.
It takes approximately two seconds for Lissa Kingsman to recognize Ethan as the popular YouTube gamer who fell off the planet years ago. But this Ethan is different than the charming man she used to watch, and the crush she had on him then is nothing compared to the way she's lusting after the brooding man he is today. If sex is all he can give her, fine. Why not use that bearskin rug in her studio for something other than a prop? But she's determined to put a chink in his armor, no matter how much he resists.
Note: This is the fourth and final book in Erickson's Gamers series and she closed it with a bang! I am head over heels with Lissa and Ethan's story. And I'm beyond thrilled that Ethan got his own story.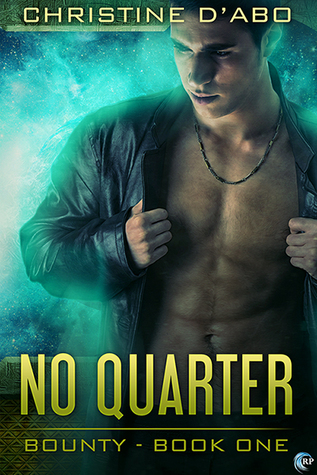 No Quarter by Christine d'Abo
When bounty hunter Gar Stitt is given a simple locate-and-retrieve mission, he's convinced it's a waste of his skills. His success rate is legendary, after all, and Captain Faolan Wolf isn't hard to find. He's the most notorious pirate in the galaxy, and when he shows up planetside to take his pleasures, he's far from subtle.
Faolan never expected a hot but tightly wound hunter to walk into his private party and try to apprehend him single-handedly. And when an unexpected betrayal forces them to work together, Faolan's even more surprised to find himself drawn to Gar personally—especially since neither of them do personal.
Gar had intended to put Faolan in prison. Instead he finds his solitary existence shaken by his desire for the pirate. And when the bounty hunter becomes the hunted, he must put his faith in Faolan and his pirate crew, or run the risk of ending up dead.
Note: This the first book in d'Abo's Bounty series. I have a thing for enemies to lovers, especially when they are super attracted to each other but fight that attraction tooth an nail. Combine that with a new sci-fi with several twists—I loved this one.
Deductions by Lyn Gala
Darren is proud of his work on the FBI's magical Talent unit. However, his own lack of magic means he can never be with Supervisory Special Agent and Shaman Kavon Boucher. The shamanic magic poses a real danger to any mundane who gets too close, so Darren tries to hide his attraction and keep a professional relationship at work. That resolve begins to crumble when a new man sets his sights on Kavon and Darren can't control his resentment.
Now they have a brutal new case of a suspect targeting magical adepts. Darren tries to keep focused on that crime, but when he starts to show signs of his own magic, he hopes that maybe he can not only be a more effective part of the team but also a real partner to Kavon. He might have a second chance at love if only Kavon can learn to trust his new and unpredictable magic that has changed the rules of the magical game.
Note: You guys! This book is it! I am all sorts of in love with this book. We all know, I have a huge thing for urban fantasy, and Gala did it RIGHT! A little something you might find noteworthy, book two in the Abberant Magic series (Derivation) is just as amazing. Also I'm dying for book three, Divergent. I'm ready. Like now.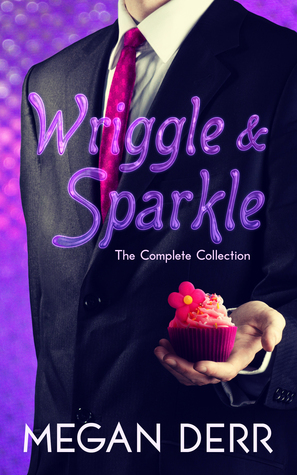 Wriggle & Sparkle by Megan Derr
Lynn is a kraken shifter in every way: detailed, tenacious, resilient, and hard-working. Also possessive, vain, arrogant, and demanding. It makes him an excellent agent for the Federal Bureau of Paranormal Security and Investigation—and impossible to work with, as the long list of partners who have transferred away from him will attest.
His newest partner is a unicorn, possibly the worst type of paranormal for work that often turns ugly and violent. Everyone knows unicorns are too delicate for such things. Then Anderson proves to be a unicorn like no other, the kind of partner Lynn has always wanted—the kind of partner he wishes was more. But if there's one thing he's learned, it's that the only thing harder to keep than a partner is a lover.
Warning: Contains tentacle porn
Note: Megan Derr is an autobuy for me so yes, I'm in love with this kraken and unicorn love story. Seriously no one can do this better. Wriggly and Sparkleson are the bomb!
Smoke & Mirrors by Charlie Cochet
Life for Dexter J. Daley has never been easy, but he's always found a way to pick himself back up with a smile on his face. Taken from his home, and the arms of his boyfriend and THIRDS partner, Sloane Brodie, Dex finds himself in a situation as mysterious and lethal as the Therian interrogating him. Dex learns what he's secretly believed all along: his parents' death wasn't an accident.
Discovering the whole truth about John and Gina Daley's homicide sets off a series of events that will change Dex and Sloane's lives forever. As buried secrets rise to the surface and new truths are revealed, Dex and Sloane's love for each other is put to the test, with more than their relationship on the line. If traversing the waters of murder and secret government agencies wasn't enough, something inexplicable has been happening to Dex—and nothing will ever be the same.
Note: I will never not love THIRDS. The guys and their stories draw me in every single time. And really, I'm dying to know what happens with Mr. Wolf. Just sayin'.
Bootleg Diva: Confessions of a Quarterback Princess by Mercy Celeste
A Southern Scrimmage Biography
All heroes need an origins story.
From trailer park to the Super Dome.
Everybody's All-American quarterback by day.
Infamous exotic dancer by night.
Levi Brody is one of the undisputed greats of the game. With two Super Bowl rings, one MVP, three Pro-Bowl appearances, three National Championships, three SEC Championships and four State High School championships Levi has indeed left his mark on the sport, but it's all a load of crap.
This is my origin story and like all good origin stories, this one lies somewhere-
Between the helmet and the tiara.
The story of the rise and fall of the first fictional gay quarterback in the NFL.
Note: I might be a little biased here because I love this author so much, but finally getting the entire backstory for Levi Brody was amazing. This is not technically a love story… not in the romance sort of way, but it's definitely a story with love that makes you fall in love with Levi all over again and harder. I'm in awe.
Not a Game by Cardeno C.
An accidental meeting and a misunderstanding lead to a life-altering connection.
A new job, a new city, and hopefully a new life. When chubby gamer Oliver Barnaby receives a job offer from the best boutique game developer in the country, he leaves his family and his less than spectacular existence in Oklahoma without a second's hesitation. Determined to change more than his career and his geography, Oliver implements a plan to finally land a boyfriend. Step one is improving his skills in the bedroom.
A life that looks perfect on paper, but feels empty in reality. Attractive, successful, charismatic Jaime Snow has a life other people envy. His already booming business is growing. He isn't lacking in friends. And he has no trouble finding a date. But there's an emptiness in Jaime's heart and a hole in his life that only the right man can fill.
An accidental meeting, a misunderstanding, and falling in love. When Oliver and Jaime end up at the same bar at the same time, they each see something they want in the other. Going to bed together that first night is easy. Building the lifetime relationship they both desperately crave will require trust, time, and a little misunderstanding.
Note: Cardeno C…. that is all. This book is classic CC—sweet, funny, heartwarming. The story is so freaking cute, and I just have to say the whole escort angle had me cracking up. I love it so much. I can't wait for more in this series.