So many books, not enough time. Y'all should see my TBR. It's insane. Nevertheless, there are so many I want to read.
Here are some I have at the top of my list.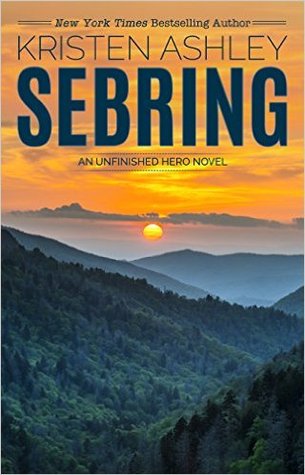 Sebring by Kristen Ashley
Nick Sebring has issues. Born feeling like an outsider in his own family, growing up under the shadow of a brother who could do anything, Nick isn't that great of a guy. But when this culminates with Nick lashing out to hurt his brother through the woman he loves, Nick turns inward and makes some decisions about the man he intends to be.
And as he does this, he falls in love and truly learns the man that he's grown to be.
When his love is murdered right before Nick's eyes, Nick knows he has to avenge her. He knows how he's going to avenge her. And he has no qualms using Olivia Shade to exact that vengeance.
Olivia Shade has grown up on the outside of her family too. Her problem is that they don't want her outside. They want her all the way in, right under their thumbs. She pays the price for seeking escape and learns her lesson—she'll never see a dawn where she wakes up free.
Then she meets Nick Sebring, and even as she fights it, the hope that died years ago starts to blossom. She can find love. She can have a man of her own. She can be happy. She can be free.
Olivia hopes while Nick schemes.
However, as Nick peels back the layers of all that is Olivia Shade, he finds something surprising. He understands its fragility. He falls in love with its beauty. He seeks to protect it.
But he forgets to protect his Livvie from one thing: Nick Sebring.
Notes: Sebring is the fifth and final book in the Unfinished Heroes series and should be read in order. Also, Nick was introduced in the first book and I wanted to kick him in the face. Since then he's popped up throughout the series, so now I'm dying to find out how he finds his own HEA.
Tags: m/f romance, bad boys, antiheros
Rock Star Baby by Erin M. Leaf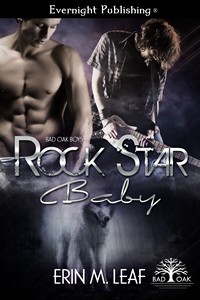 Ryan Oakley, lead singer of Bad Oak and heartthrob extraordinaire, isn't looking for a girlfriend. He's definitely not looking for a boyfriend, but after the explosive encounter he has with a guy he meets backstage, he realizes he's more flexisexual than he'd thought. Of course, suddenly being able to shift into a wolf is an unexpected side effect he didn't expect and can barely control.
Bardulf Forst is Alpha-Heir to his pack, but he can't resist his little sister when she begs him to meet Ryan Oakley. When he realizes the sexy singer is his mate, he can't deny instinct. He claims the famous rock star even though he knows his father won't approve: heirs are supposed to have children and two males can't reproduce.
Little do they know that they're about to experience an ancient shifter biological imperative: when two male Alphas mate, unexpected miracles sometimes happen.
Tags: m/m romance, PNR, mpreg, rock star
Malachite by Kirby Crow
Marion Casterline is the highwarden of Malachite, an ancient, beautiful city floating in a shallow sea. In the aftermath of a brutal gang war, there is finally peace in the city, and new life every year through the sacred ritual of Aequora. Through Aequora, exiles, outlaws, and orphans can become citizens of Malachite. This ritual is vital to the city's survival, because Malachite is populated only by males.
Jean Rivard grew up in the Zanzare slums at Marion's side. As boys, they were branded into the violent Teschio gangs ruling the criminal underworld of Malachite. Known in the slums as the Prince, Jean became a spy, an assassin, and Marion's lover. As men, they worked together to destroy the Teschio and crown Kon Sessane as magestros of the city, only to drift apart after the battles were won: Jean to the Black Keep, Marion to the grand halls of the Consolari.
When Marion announces his engagement to Kon's son, Jean is hurt and resentful. Marion is leaving him and their past behind in every possible way. Marion also believes that he's starting a new life, but when a charismatic rebel leader kindles a revolt in the slums, he realizes that the only man who can prevent war from devouring the city he loves is his very own prince.
Tags: m/m romance, epic fantasy, royalty
Rule of Thirds by Stephanie Tyler
Jacoby Razwell has been a grifter, a vic and an FBI agent in WITSEC…
He's also the brother of a serial killer.
Jacoby Razwell comes from a family of gypsies, tramps and thieves…but when he discovers that his sister, Jessica, is a killer, he immediately tries to extricate himself from her. In retaliation, his sister leaves him badly scarred, words of warning carved into his body. He immediately runs to Special Agent Ward Thayer, the man in charge of the unsolved murders that Jacoby knows his sister is behind.
Ward takes him in and puts him under the FBI's protection. But Jacoby wants more, and, after a year of cooperating with the FBI, he insists on entrance to the Academy. Jacoby completes the training at Quantico with flying colors, and soon he's hunting Jessica—and other serial killers—next to Ward. They've become partners at work and partners at home…until Jessica finds a way to tear them apart.
Now, charged with protecting a witness who has his own dangerous secrets to hide, Jacoby and Ward must attempt to bring Jessica to justice at last, all the while knowing that this time they'll have to run toward danger and put their lives—and their relationship—on the line.
Notes: This is the second book in Tyler's Mirrors series. The first book is m/f. I think the series needs to be read in order, but I'm not entirely sure.
Tags: m/m romance, law enforcement, mystery, bad boys, enemies to lovers, opposites attract
Lovers Leap by J.L. Merrow
If they looked, would they ever leap?

Good-looking, confident, and doted on by his widowed mum, Michael is used to thinking only of himself. Getting shoved off an Isle of Wight pier by an exasperated ex ought to come as a wake-up call—but then he meets Rufus and he's right back to letting the little head take charge. Rufus is cute, keen, and gets under Michael's skin in a disturbing way.
Would-be chef Rufus can't believe his luck when a dripping wet dream of a man walks out of the sea on his birthday, especially when Michael ends up staying at the family B&B. Life is perfect—at least until Michael has to go home to the mainland.
Rufus can't leave the island for reasons he's entirely neglected to mention. And though Michael identifies as bi, breaking his mum's heart by coming out and having an actual relationship with a guy has never been his plan. With both men determined to keep their secrets, a leap of faith could land them in deep water.
Tags: contemporary, m/m romance
Seduction in Session by Shayla Black and Lexi Blake
Privileged, wealthy, and wild: they are the Perfect Gentlemen of Creighton Academy. But the threat of a scandal has one of them employing his most deceptive—and seductive—talents…
Recruited into the CIA at a young age, Connor Sparks knows how dirty the world can be. Only when he's with his friends can he find some peace. So when an anonymous journalist threatens one of the Perfect Gentlemen, Connor vows to take down the person behind the computer, by whatever means necessary—even if it means posing as his target's bodyguard.
Publishing a tabloid revealing Washington's most subversive scandals has earned Lara Anderson the ire of the political scene—and a slew of death threats. To keep herself from ending up a headline, Lara hires a bodyguard, a man as handsome as he is lethal.
When the bullets start to fly, Lara is surprised to find herself in Connor's arms. But as they begin to unravel a mystery that just might bring down the White House, Lara is devastated when she discovers Connor's true identity—and finds herself at the mercy of forces who will stop at nothing to advance their deadly agenda.
Tags: contemporary, m/f romance, mystery, suspense, enemies to lovers, law enforcement, journalist
His Favorite Color is Blood by K.A. Merikan
— When life gives you blood, make mayhem. —

Grim. Assassin. Leather-clad sex god. Has the most unusual taste in men.

Misha. Mutilated. Afraid. Will never trust again.
Grim is a bloodthirsty killer, and he owns it. Gay in a world of outlaw bikers, he firmly stands his ground if anyone dares to cross him. He takes pleasure in showing homophobes their place and fucking his way through a life of carnage.
But there is a part of him always aching for something he cannot get. When by chance he saves the most perfect guy he's ever met, he is not about to let him go. Even if it means he needs to smother his broken bird.
When a masked, bloodstained man rescues Misha from captivity, he doesn't know if he should thank the menacing stranger or stab him and run. Grim is not the kind of man who takes no for an answer, and Misha might now be in more danger than when he was trapped as a sex slave.
Misha cannot deny though that Grim is as alluring as he is frightening, and once Misha realizes what power his body holds over Grim, he understands that taming the beast of a man could be within his reach.
But any possibility of a future together is like a house of cards when Zero, the sadistic crime lord who destroyed Misha's life, sets out to get him back.
Will the ruthless biker assassin at Misha's side be enough to conquer the monsters from his past?
Tags: MC Romance, m/m romance, outlaws, bad boys, kidnapping, dark erotic romance
Getting Him Back by K.A. Mitchell
Ethan may have followed his high school sweetheart to college only to get dumped his first day there, but he's not going to let that stop him from exploring all his new life has to offer. Sex-only hookups, his photography, new friends and a campus-wide game of zombies vs humans all help keep his mind off his broken heart and move him toward building a new, better life without his ex.
And then there's Wyatt. Mysterious, grouchy—hot. And possibly not gay. But Ethan's not going to let that stand in the way of figuring out what makes Wyatt tick. New college goal? Get Wyatt into bed and into Ethan's life.
Step one: arrange a "tutoring" date. Step two: "accidentally" bump into Wyatt as often as possible. Step three: explore the sexy body under that ever-present hoodie. And when their friendship deepens into something neither of them expect, convince Wyatt he's not just a pity fling or a one-time hookup, but that Ethan is in it for the long haul.
Tags: contemporary, new adult, m/m romance, friends to lovers, second chance
Strong Signal by Megan Erickson and Santino Hassell
I was counting down the months until the end of my deployment. My days were spent working on military vehicles, and I spent my nights playing video games that would distract me until I could leave Staff Sergeant Garrett Reid behind.
That was when I met him: Kai Bannon, a fellow gamer with a famous stream channel.
I never expected to become fixated on someone who'd initially been a rival. And I'd never expected someone who oozed charm to notice me—a guy known for his brutal honesty and scowl. I hadn't planned for our online friendship to turn into something that kept me up at night—hours of chatting evolving into filthy webcam sessions.
But it did. And now I can't stop thinking about him. In my mind, our real life meeting is perfect. We kiss, we fall into bed, and it's love at first sight.
Except, like most things in my life, it doesn't go as planned.
Tags: contemporary, m/m romance, military, enemies to lovers?, gamers
Clockwork Heart by Heidi Cullinan
Love, adventure and a steaming good time.
As the French army leader's bastard son, Cornelius Stevens enjoys a great deal of latitude. But when he saves an enemy soldier using clockwork parts, he's well aware he risks hanging for treason. That doesn't worry him half as much, however, as the realization he's falling for his patient.
Johann Berger never expected to survive his regiment's suicide attack on Calais, much less wake up with mechanical parts. To avoid discovery, he's forced to hide in plain sight as Cornelius's lover—a role Johann finds himself taking to surprisingly well.
When a threat is made on Cornelius's life, Johann learns the secret of the device implanted in his chest—a mythical weapon both warring countries would kill to obtain. Caught up in a political frenzy, in league with pirates, dodging rogue spies, mobsters and princesses with deadly parasols, Cornelius and Johann have no time to contemplate how they ended up in this mess. All they know is, the only way out is together—or not at all.
Tags: m/m romance, steampunk, fantasy, military
Rafael by Faith Gibson
There's a new species of shapeshifter in town…
Rafael Stone is the King of the Gargoyle shapeshifters. His family, The Stone Society, has ruled the Americas for over seven hundred years. As an architect, he has spent the last thirty years helping to rebuild New Atlanta since the near Apocalypse. As King of the Gargouille, he has spent those same thirty years protecting his city from the dregs of society.
Kaya Kane is the New Atlanta Chief of Police. At thirty-six, not only is she the youngest, but also the first female Chief the city has ever had. She has dedicated her life to keeping her city safe. When a multiple homicide brings her face to face with the elusive Rafael Stone, her life will never be the same.
Rafael's kind has never mated with a human but just speaking to Chief Kane on the telephone nearly brings him to his knees. Kaya has given up on ever having a relationship other than her career. When the two meet, sparks fly. Literally. Can Rafael give in to the fact that Kay is human? Can she overlook the evidence pointing to Rafael as the killer?
Tags: PNR, m/f romance, gargoyles, bad boys, dystopian fantasy, urban fantasy
Out of Frame by Megan Erickson
Perpetually shy, Quinn Mathers is content to remain in the shadow of his brash best friend Jess Hartman. But before their college graduation, he and Jess have planned one last hurrah: a spring break Caribbean cruise.
And it won't be just any cruise. On board are members of the reality show Trip League, which follows young twenty-somethings on adventures around the world. Since the show's beginning, Quinn has been fascinated by J. R. Butler, with his amazing body, warm eyes, and killer grin. Unfortunately, he's straight—or so the world thinks.
At nineteen, J. R. signed a contract to play straight for the show, and there's no way to get out of it now. Yet with each passing day, Quinn and J. R. find it harder to keep their hands off each other and to keep out of the camera's frame. But when the lens finally focuses on them, J. R. must decide if he's willing to risk his career by admitting his bisexuality, and Quinn must determine if he's bold enough to stand in the spotlight with the man of his dreams…
Note: This book releases on March 15th
Tags: contemporary, m/m romance, in the closet, opposites attract, coming out, coming of age, television star, road trip/cruise
The Secret of Hunter's Bog by Ally Blue
For Koichi McNab, the shop he and his twin sister Kimmy are opening in Hunter's Bog Mall is a fresh start after their old one burned down. A way to move on. Especially when he meets the hunky owner of the luxury camping goods store next door. Koichi's never been an outdoorsy guy, but Will Hood just might change his mind.
Will came to Southern Alabama to establish his own life away from his big, intrusive family—and in hopes of finding Anthony, the lover who vanished two years ago. But meeting Koichi throws everything off-kilter. Anthony was a long time ago. Koichi's right here, smart and funny and cute, and Will wants him.
As Koichi and Will become friends, then lovers, Will's past and Koichi's present tangle into a dangerous knot that brings them face-to-face with secrets, theft, treachery . . . maybe even murder. With their lives on the line, their only way to safety is together.
Tags: contemporary, m/m romance, mystery, suspense