Shield of the Dragon by Megan Derr
If the aftermath of destroying two powerful syndicates and joining league with the last person he expected, all Ken wants is a chance to catch his breath, and maybe regain the attention of the man who said he wanted Ken as more than just a Steward but now seems to have lost interest. But every other day bring a new crop of people wanting to kill them, and it's only a matter of time before they succeed.
All Amr wants is time—time to move his clan and settle them into their new home, time with the dragon he never thought he'd own, and most of all he wants time for his Steward, to see the man rest and recover and stop getting himself almost killed every week. He wouldn't mind a chance to rekindle their fragile relationship either.
Diamond wants a life that feels worth living. The one he left behind wasn't all that great, but it beat waking up to the nasty results of a curse that should have killed him and working as a hitman for the Cambry Syndicate. Then he goes to fetch someone for his boss, and gets dragged even deeper into the strange paranormal world he's still learning to call home.
Magic & Mayhem anthology
Everyone deserves to see themselves in stories, to see themselves get a happy ending. For the past few years, GRNW has helped to see those stories reach more of the LGBTQ community, and gain traction is libraries and beyond.
Furthering that goal is this collection of fiction and essays, including information on how to get books in libraries, letters from authors, why positive and happy queer books are so important, and short stories about tattooists, soldiers, mages, and cyborgs that span the LGBTQ spectrum.
On Wings of Thunder by MD Grimm
Trystan is an unchosen angel—shunned by society, bullied, and without a future. In a hidden well, Trystan discovers a carving of a dragon, who were once the commanders of demons and now believed extinct. But Trystan learns the carving doesn't depict an ordinary dragon. Stories tell that millennia ago, the great dragon Asagoroth and his demon army nearly conquered the three realms but was killed by the five elders. The powerful angels combined their life forces to cast a spell, sacrificing their lives.
But history is full of falsehoods. The five elders only managed to imprison the dragon, and Asagoroth had cast his own spell—one of releasement. It only needs the blood of an angel to liberate him from his cage….
Asagoroth, enemy of angels, conqueror of realms, is free. But even as the angels prepare for war, the great dragon surprises them with an ultimatum: hand over the angel who awakened him or face annihilation.
Note: Dragons… that is all.
Shameless by Gina L. Maxwell
People say I'm shameless. They're right.
I like my sex dirty. It takes a hell of a lot to tilt my moral compass, and I always follow when it's pointing at something I want. That goes double when it points straight at the one girl in all of Chicago who's not dying for a piece of me.
She's all I can think about, and that's a problem, because she wants nothing to do with me. But I've seen her deepest secrets, her darkest fantasies, and they match mine to a fucking T.
I want her. Bad.
Now I need to show her how good it can feel…to be shameless.
Note: I have a thing for bad boy jerks. *shrugs*
Monster Prick by Kendall Ryan
Over my dead body.

That's what I told Gracie when she informed me of her plan to pick some random guy she met online to get rid of her pesky virginity.
If anyone is touching her, it's going to be me.
I shouldn't even be considering it, but I can't get it out of my head: her, under me, begging me.
Note: I've mentioned my weakness for bad boys, yeah?
Killer Mate by Ella Drake
Tee Bronson doesn't trust outsiders. Never has. Now the Scoriah are on the run from the Nex, a secretive black-ops unit, and trust isn't even in his vocabulary. Except he needs help to board a military vessel to free one of his brothers. The only human in the universe that he's sure isn't Nex is Malweather Hunter, his former lover. Problem is, last time Tee saw Mal, he killed him.
If there's one thing a former bounty hunting cyborg should avoid, it's the alien who turned him inside out, left him for dead, and ruined his career. Even reminded that he's homeless, broke, and bitter, Mal can't resist the reason for it all. Tee makes his cold body run hot. Besides, if anyone's going to kill Tee, it's going to be him. The Nex will just have to wait their turn to get their hands on his lover's enticing neck.
Note: I blame Lexi… also my love for smutty sci-fi. This book is the fifth in a series but doesn't have to be read in order.
Widdershins by Jordan L. Hawk
A reclusive scholar. A private detective. And a book of spells that could destroy the world.
Love is dangerous. Ever since the tragic death of the friend he adored, Percival Endicott Whyborne has ruthlessly suppressed any desire for another man. Instead, he spends his days studying dead languages at the museum where he works. So when handsome ex-Pinkerton Griffin Flaherty approaches him to translate a mysterious book, Whyborne wants to finish the job and get rid of the detective as quickly as possible.
Griffin left the Pinkertons after the death of his partner. Now in business for himself, he must investigate the murder of a wealthy young man. His only clue: an encrypted book that once belonged to the victim.
As the investigation draws them closer, Griffin's rakish charm threatens to shatter Whyborne's iron control. But when they uncover evidence of a powerful cult determined to rule the world, Whyborne must choose: to remain safely alone, or to risk everything for the man he loves.
Note: I might be the only person in the world who hasn't read this series yet.
Soulseeker by JC Owens
A prince imprisoned by duty, a horse lord sworn to find the soulseeker…
Prince Rian is desperate to escape his abusive and tyrannical brother, Arran, the king of Rashma, and save those he loves from his brother's madness. But after recapturing Rian, the king is taking no chances when he forces the prince back to his duties as general. Arran has hired the Hawks, a group of hardened Zala mercenaries renowned for their battle prowess and skill with horses, to watch the prince. Broken and forced to submit, Rian endures these new bodyguards he knows are spies loyal to his manipulative brother. But Rian has a secret about to be uncovered. At night, when his mental barriers are lowered, he is guarded by the wraith of his dead twin. He can't hide the wraith from Hamon, the powerful leader of the Hawks who tangles all the emotions within Rian and makes him believe he just might be worthy of love.
When Hamon agreed to guard the prince, he believed it would be a simple task…and allow the Zala to gather information on the expanding kingdom of Rashma. But after witnessing the prince's unique powers, he suspects Rian might be one of the legendary soulseekers, despite the fact that Rian is not of the Zala and a soulseeker hasn't been seen in decades… But more than that, he finds himself fascinated and attracted to the prince. Soon he begins to suspect the king has lied about the prince from the very beginning. Yet, how can he convince Rian he's the true soulseeker and bring him safely to where he's needed most…
Note: JC Owens is an autobuy for me. I can hardly wait to dive into this book!
Bitten By Mistake by Annabelle Jacobs
From animosity to searing passion in a lunar cycle… but can their bond survive?
Wolf shifter Nathan Kohl's pack is his whole life. Arrogant and handsome, he avoids commitment to anything or anyone outside of his pack. He works hard, plays hard, and pursues humans as lovers because there's little to no chance of him forming a permanent bond. However, when Jared Taylor comes into Nathan's life, every rule is broken.
After a bad experience, Jared vowed to never get involved with another shifter, no matter how much they got under his skin. Despite being physically attracted to Nathan, who's all kinds of hot, Jared only sees an arrogant, domineering bastard.
A disastrous case of mistaken identity throws Nathan and Jared together until the next full moon. Forced to spend the next twenty-eight days in close proximity, they can no longer ignore the powerful attraction between them. Passion ignites, and their relationship takes a turn neither of them wanted.
But when the full moon comes, everything might change again
Captive by Jex Lane
Matthew Callahan has spent seven years struggling against the insatiable hunger for blood consuming him. Unable to stop the vampire inside from preying on humans, he keeps himself confined to a lonely existence.
Everything changes the night he is lured into a trap and taken prisoner by High Lord General Tarrick—a seductive incubus who feeds off sexual energy. Forced into the middle of a war between vampires and incubi, Matthew is used as a weapon against his own kind. Although he's desperate for freedom, he is unable to deny the burning desire drawing him to the incubus general he now calls Master.
Kestrel's Talon by Bey Deckard
Following the Prentish/Nemarri war, Kes is rejected by his homeland under the guise of religious purity laws. Though he's spared execution, the proud Nemarri's fate is only marginally more merciful than death when he is sold into sexual slavery at a prosperous pleasure house.
Despite his stoic endurance, Kes knows he's reaching his breaking point, but there is nothing he can do—there is no path to freedom in the Holy Prentish Empire, only a lifetime of humiliating servitude.
That is, until a beautiful young slave and his formidable master approach Kes in the marketplace and make an astonishing offer to take him home with them. The only problem: "home" is the accursed Horthmont Castle from the scare-stories of Kes's childhood.
Thrown into a world of living myth, powerful magic, and ancient gods, Kes learns the secrets kept hidden by Horthmont's thick blackstone walls. There he discovers something he thought he'd never know again: hope for the future.
Mate Call by Amber Kell
King Zeir had it all, a prosperous kingdom, a fated mate and the love of his people. But when his mate dies he goes half mad with grief and transforms into his dragon form. Unable to get past his sorrow, he pines for the love he never fully knew.
Colton Lanx has known nothing but travel. His parents flew from planet to planet, never settling down. Becoming a navigator was an easy choice to make until an error by his captain forced him down to the planet Dragait.
Two men joined by destiny have to overcome their past if they wish to build a future together.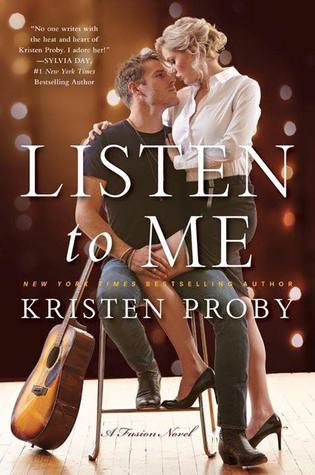 Listen to Me by Kristen Proby
Seduction is quickly becoming the hottest new restaurant in Portland, and Addison Wade is proud to claim 1/5 of the credit. She's determined to make it a success and can't think of a better way to bring in new customers than live music. But when former rock star Jake Keller swaggers through the doors to apply for the weekend gig, she knows she's in trouble. Addie instantly recognizes him—his posters were plastered all over her bedroom walls in high school—he's all bad boy…exactly her type and exactly what she doesn't need.
Jake Keller walked away from the limelight five years ago and yearns to return to what's always driven him: the music. If he gets to work for a smart-mouthed, funny-as-hell bombshell, all the better. But talking Addie into giving him the job is far easier than persuading her that he wants more than a romp in her bed. Just when she begins to drop her walls, Jake's past finally catches up with him.
Will Addie be torn apart once again or will Jake be able to convince her to drown out her doubts and listen to her heart?
Winter's Heat by Ruby Nox
Omega wolf Simon Malone never thought he'd wake up in the back of a car, bonded to an alpha. And certainly not one as strong-willed and carefree as this one. Now, with a betrothal rapidly approaching, Simon must find a way to break the bond before he loses what little life he has. If he can't, who knows what lengths this rich alpha will go to. There's just one problem—Simon can't quite tear his eyes—and heart—away from sinfully sexy Cody Adams.
All alpha wolf Cody Adams wanted was one glorious week of freedom before his official bonding to a high class omega. A last hurrah before taking on the responsibilities on his status and resigning himself to a mundane life of perfunctory sex and duties. Now, with one week to rid himself of this low bred wolf, Cody must reign in his temper and his heart before he does something else he regrets—like falling in love. It doesn't help that Cody's never seen an omega as captivating as Simon. And when Simon turns out to be pregnant, things get even more complicated.
The False Prince by Jennifer A Nielsen
In a discontent kingdom, civil war is brewing. To unify the divided people, Conner, a nobleman of the court, devises a cunning plan to find an impersonator of the king's long-lost son and install him as a puppet prince. Four orphans are recruited to compete for the role, including a defiant boy named Sage. Sage knows that Conner's motives are more than questionable, yet his life balances on a sword's point—he must be chosen to play the prince or he will certainly be killed. But Sage's rivals have their own agendas as well.
As Sage moves from a rundown orphanage to Conner's sumptuous palace, layer upon layer of treachery and deceit unfold, until finally, a truth is revealed that, in the end, may very well prove more dangerous than all of the lies taken together.
An extraordinary adventure filled with danger and action, lies and deadly truths that will have readers clinging to the edge of their seats.